Robust solutions for Helidecks or offshore applications
The POLY CAFS TWIN AGENT is a semi-stationary firefighting system for the protection of helicopter landing sites and special industrial applications. It is especially suited for offshore areas because of its resistant materials and robust design. The system combines powder and CAFS (compressed air foam) and thus offers high extinguishing efficiency.
The POLY CAFS TWIN AGENT is DNV certified and is very low in maintenance.
Extinguishing agent combination of powder and CAFS
Intuitive and simple operation
Resistant materials
Self-sufficient operation
Large throw ranges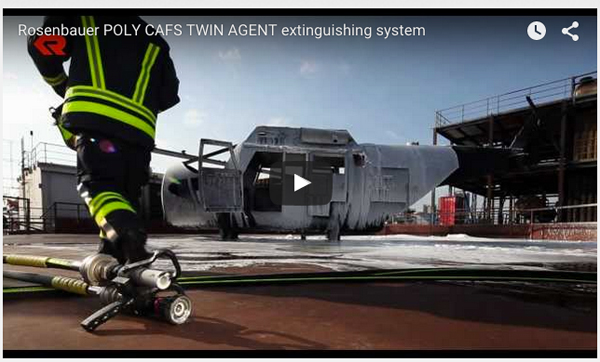 Through the combination of two different extinguishing agents (powder and CAFS) the TWIN AGENT system can successfully handle plastic, rubber, liquid and gas fires. It is used in industrial plants or oil and gas transmission stations. The system is especially suited for offshore applications – to protect helidecks, oil platforms, oil rigs, etc.
Combination of powder and CAFS
The combination of two highly effective extinguishing agents helps to effectively fight various fires. In the case of oil fires, the fire can be brought under control with powder and subsequently be covered with a blanket of CAFS to increase the safety against backburning.
Advantages of CAFS (in comparison with conventional foam)
Actively controlled foam expansion in a mixing chamber protected from environmental influences.
Consistently high foam quality
Sticks to hot surfaces
Flames are deprived of oxygen
Increased burn-back safety
Low application rates
Multiplied extinguishing agent quantity
Enormous throw ranges
A robust stainless steel frame protects all components. This allows the system to be loaded and transported. The individual components are easily accessible, so that even the refilling of the system itself can be carried out easily.
Excellent corrosion-resistance
The system containers as well as lines and frames are made from stainless steel. Thus the firefighting system withstands rough conditions like salty air and strong winds on the high seas.
Operation
All operating elements are clearly arranged on a panel. The system is ready for operation within seconds by simply moving three levers.
Hoses and nozzles
Each extinguishing agent tank is connected with a 30 m long extra-light textile hose. It keeps its shape and does not kink, even when empty. The hoses are connected by a dual pistol nozzle, with which the operator can easily switch between powder and CAFS, The extinguishing stream can be continuously adjusted from full to spray jet.
RBFSSL5P25 – SL500 / P250
Related Products