Water Powered Turbo Blowers
First Choice of Naval Forces Worldwide
RAMFAN Water Powered Turbo Blowers are used by Naval Forces worldwide for smoke removal, ventilation and cooling during combat operations.
Safer…
RAMFAN's water powered design eliminates the threat of electrical shock and minimizes explosion potential in dangerous gas environments.
More efficient..
RAMFAN's patented Axial Flow Turbine Technology leads the way in converting water power into high velocity airflow more efficiently than any water fan on the market today.
better…
RAMFAN's axial turbine is bult of corrosion-proof composite materials for long life, simple maintenance and easy replacement of parts.
Solution to High Rise Underground and Warehouse Ventilation
Water powered, intrinsically safe
6-blade polymer TurboForceTM impeller for increased shatter resistance and enhanced PPV performance.
Water control valve provides direct control of airflow at blower Outlet for water recycling (closed circuit) to conserve water supply Wide range tilt adjustment
Powder coated steel frame with full-width folding handle
Equipped with PowerStream® to support greater setback distances reducing the noise level inside the building and allows the entry/ exit to keep clear of obstructions for advancing firefighters.
Integral misting system
Optional Accessories: Many water connection fittings and ducting configurations available. Call for details.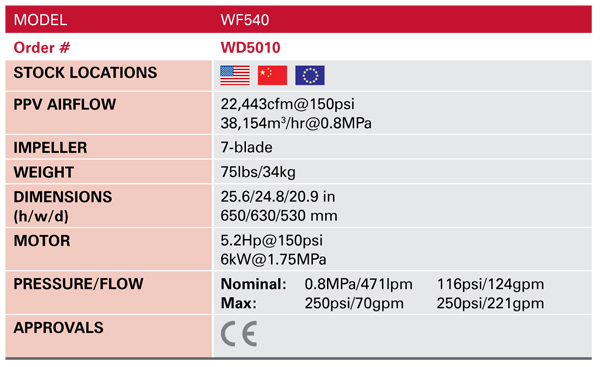 Related Products