Server rooms, electrical cabinets, power generators and similar devices are closed spaces with increased risk of fire and out of sight. In case of fire such combination may have devastating consequences such as damaging property, interrupting business or in the worst case scenario losing lives.
Local application systems from the BlazeCut "C" Series product line provide effective fire protection of such larger enclosures. Automatic operation, fast detection and effectiveness are the most important elements of the "C" Series systems.
The system operates automatically independent of any power supply, which is a key advantage, as the system is able to effectively operate and suppress fire in spaces even when people are not present. The system operation is based on a pneumatic detection tubing technology which is sensitive to high temperatures. The detection tube is a "heart" of each BlazeCut "C" Series System providing detection function and release of agent function (DLP System). Pneumatic detection/activation operates solely on physical principles.
Typical indoor applications: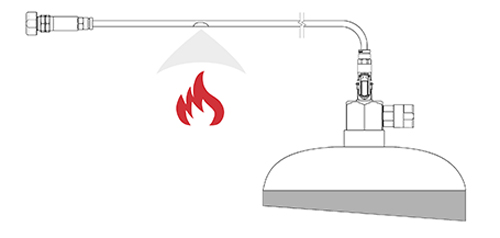 CNC machines
Server racks
Electrical cabinets
Kitchens
Fume cabinets
Power generators
Telecom tower shelters
Ventilation devices
Elevator engines
Other
Direct Low Pressure (DLP) System
This system is referred to as direct, which means that the activation and distribution of the agent is secured by the detection tube.
The fire suppression system operates by detecting fire and ap­plying the agent using a detection tube fastened to a cylinder valve. The detection tube is placed in the protected enclosure and is under constant pressure. In case of fire the detection tube degrades by the effect of fire or high temperature. When the detection tube is disrupted, the agent is released through created hole. The detection system is independent of any electrical supply and operates solely on physical principles.
The direct system is suitable for smaller applications and combines easy installation with simple operation.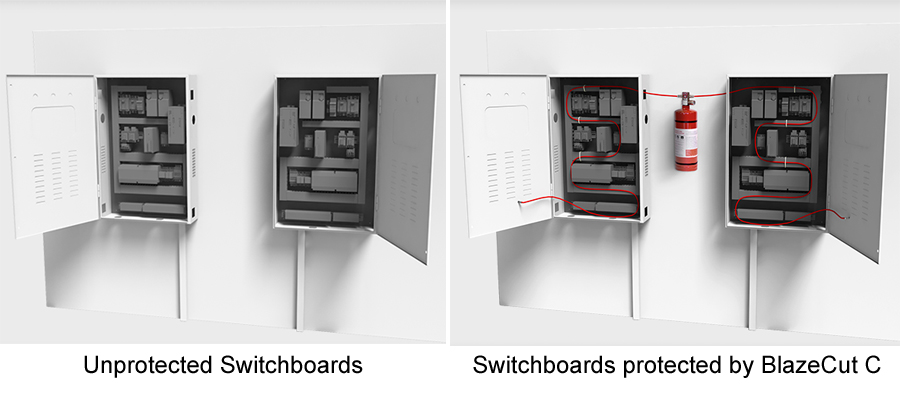 Operation and business continuity of every company and industry is dependent on its key elements. In addition to the staff it is the company equipment: server rack, CNC machine, electrical cabinet, power generator, kitchen and so forth which are key. Electrical sources, cables and wires in electrical enclosures, chemicals in fume cabinets and machines or oils and fats in kitchens are factors that pose a great risk of fire in these enclosures.
BlazeCut provides automatic fire suppression systems for these kinds of enclosures through its BlazeCut "C" Series local application systems. The systems are supplied with HFC-227ea, which are the best choice for protection of electrical enclosures and sensitive devices.
Available in ready to install kits including: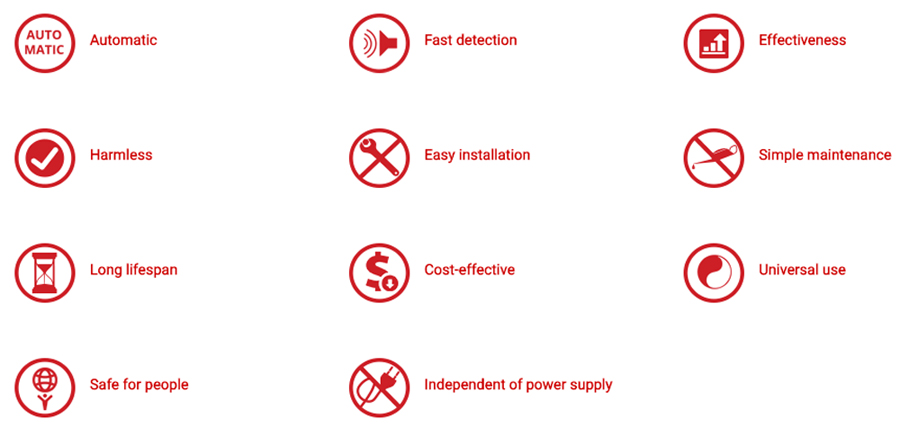 Complete Cy;inder Unit
DLP Valve with two 6mm detection tube outlet
Pressure Gauge
Extinguishing Agent HFC-227ea
Cylinder mounting bracket
20m of Red detection tube
End of line adaptor with pressure gauge
End of Line Plug
100 plastic ties for installation
2 Panel grommet
Warning Sign
ZCFSSCD301 – 1kg
ZCFSSCD302 – 2kg
ZCFSSCD304  – 4kg
ZCFSSCD306 – 6kg
Related Products