Engine compartments of vehicles and machines, power generators and similar devices are closed spaces with increased risk of fire and out of sight. In case of fire such combination may have devastating consequences such as damaging property, interrupting business or in the worst case scenario losing lives.
Local application systems from the BlazeCut "C" Series product line provide effective fire protection of such larger enclosures. Automatic operation, fast detection and effectiveness are the most important elements of the "C" Series systems.
The system operates automatically independent of any power supply, which is a key advantage, as the system is able to effectively operate and suppress fire in spaces even when people are not present. The system operation is based on a pneumatic detection tubing technology which is sensitive to high temperatures. The detection tube is a "heart" of each BlazeCut "C" Series System providing detection function and release of agent function (DLP System). Pneumatic detection/activation operates solely on physical principles.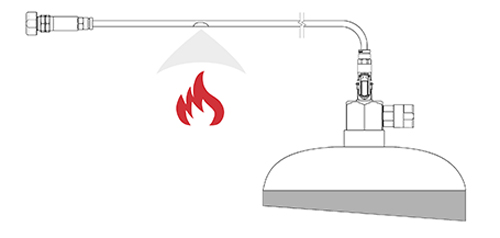 Typical vehicle and machine applications:
Buses and coaches
Electricity generators
Trucks and vans
Construction vehicles
Agricultural vehicles
Mining machines
Forestry machines
Special army and police vehicles
Marine
Other
Direct Low Pressure (DLP) System
This system is referred to as direct, which means that the activation and distribution of the agent is secured by the detection tube.
The fire suppression system operates by detecting fire and ap­plying the agent using a detection tube fastened to a cylinder valve. The detection tube is placed in the protected enclosure and is under constant pressure. In case of fire the detection tube degrades by the effect of fire or high temperature. When the detection tube is disrupted, the agent is released through created hole. The detection system is independent of any electrical supply and operates solely on physical principles.
The direct system is suitable for smaller applications and combines easy installation with simple operation.

Engine compartments of buses are more prone to fire than other enclosures due to the following: short circuit, engine wear, hot surfaces, reduced durability of materials, use of plastics, encapsulation of the engine, oil, and debris. It is not surprising that more than 70% of all bus fires occur in the engine compartment. Since buses are used for every day transport of people, the fire protection of buses should be top priority of every bus operator or manufacturer.

Mining machines, forestry machines, construction vehicles are exposed to extreme everyday operation conditions. Such conditions multiply the risk of fires in the engine compartments of these vehicles and machines.
BlazeCut "C" Series Systems can be installed to protect the engine compartment of any vehicle or machine ranging from standard truck or van to heavy forestry or mining machine.
Available in ready to install kits including:
Complete Cy;inder Unit
DLP Valve with one 6mm detection tube outlet
Pressure Gauge
Extinguishing Agent HFC-236fa
Cylinder mounting bracket
10m of Red detection tube
End of line adaptor with pressure gauge
Dashboard signal unit
50 plastic ties for installation
Warning Sign
ZCFSSCV151 – 1kg
ZCFSSCV154 – 4kg
Related Products