WS06 SAFE FORKLIFT OPERATION
Target Participant: 
All Forklift Operators
Prerequisites:  
Valid Medical Certificate
Duration:
 2 Day
Participant Numbers:
 Minimum of 5, Maximum of 8
Certificate:
 Provided
Location:  
Theory and practical on site in the workplace. V
alidity:  
3 Years   WS06 is designed to give the course participants practical knowledge on how to operate a forklift safely, correctly and skillfully and be familiar with the company operating procedures.  
Topics Covered;
Introduction and Definition of Forklift Trucks
Responsibilities of a Forklift Driver
Company Requirements
Basic Maintenance Checks
Types and Capacity of Forklifts
Stability of Loads
Unsafe Factors in Forklift Operation
Safe Forklift Operations
Coordination and Communication
Loading and Unloading of Loads
Safe Lifting of Loads
Practical Loading / Unloading and Lifting of Load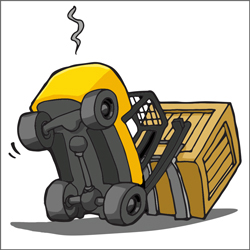 Clothing:
 All participants are required to wear designated workplace workwear, work boots (NOT Flip Flops),eye protection, and any other required PPE.
Health Requirements:
All participants must sign a health form confirming they are physically capable of participating in training. It is advised that employers require their staff to undertake a fitness and medical assessment prior to the training to ensure employee capacity. FIRESAFE reserves the right to refuse participation of any individuals we believe to not be in a medical or physical condition to safely undertake the training.