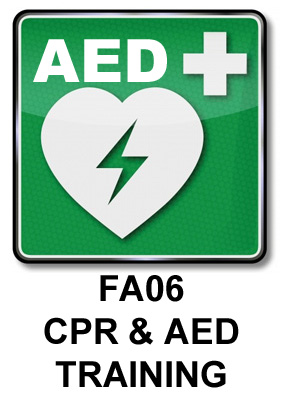 FA06 CPR and AED Training
Target Participant:
Personnel with an AED in their workplace
Prerequisites:  
Nil
Duration:
 1 Day
Participant Numbers:
 Minimum of 10, Maximum of 12
Certificate:
 Provided
Location:  
Your venue or ours. V
alidity:  
12 months  
This cours is a combination of  FA02 Basic CPR, and a specialist AED module. The AED module can be done as half day as an addition to any other first aid courses we offer which include CPR.
This course will give participants the confidence and the knowledge to use an AED in the workplace or public environment. AEDs have proven to be a lifesaving tool worldwide and save thousands of lives everyday.
Other Courses available include;